Back in August I went almost 3 weeks without a post, and I heard from 20% of my readers (sure it was just 2 people, but 20% sounds better). Anyway, I thought I better post something since I haven't written anything in a while. There's just one problem. I don't have a lot going on right now. So I thought I'd mention some of my favorite clothing to wear outside while doing all of these backyard homesteading projects.
I used to just wear old cotton T-shirts and jeans shorts. They were pretty standard "yard clothes." It gets hot in North Carolina in the summer so I sweat. The cotton shirts would cling and be very uncomfortable. I needed something better. I got out one of the shirts I wear
backpacking
. It was a huge improvement. I love the
EMS Techwick T-shirts
. They offer ultra fast wicking and they're quick drying. They are great to wear outside in the summer (or any time of year really).
These shirts list for $30-35. I've never paid that much for one. They go on sale all the time and frequently they end up on clearance. I generally get them for $10-15 although I've paid as little as $6.98.
For pants I've found that I really like the
REI Sahara convertible pants
. They're lightweight, water resistant, and if I do get too hot I can turn them into shorts. They also have a lot of pockets for carrying things. Some of the pockets even zipper or Velcro shut so you don't have to worry about stuff falling out.
I don't pay full price for these either. They go on sale several times a year for 20% off. It's hard to get a better discount than that from REI.
Appalachian Trail near Boiling Springs PA - 2009
If it isn't apparent already, I pretty much like to wear the same stuff I would wear on the trail. So for my feet there is only one option.
Hiking boots!
I've been wearing hiking boots as my main footwear since I was 15-16 years old. I love them. I wear them on the trail, in the yard, to work, to the store, and to church. Even with all that use, I generally get 3-4 years out of a pair of boots.
I've tried a lot of different brands of boots over the years, but I have decided that
Asolo
boots are my favorite and I will be buying them from now on. I will say right up front, that Asolo boots are
not
cheap. They list for $250-300.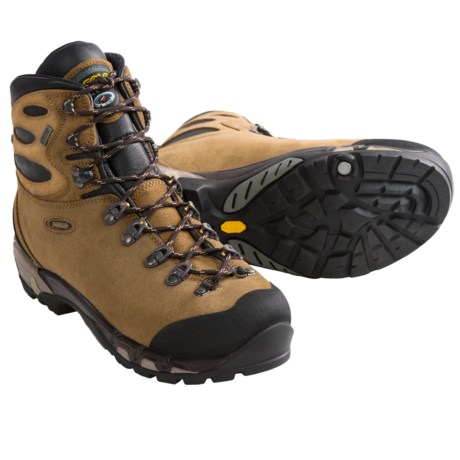 Luckily you can find them on sale from time to time. I think I paid around $150 for each of my last two pairs. I got my
current pair
from
sierratradingpost.com
. The
pair
I got before that came from
campmor.com
. The downside to buying boots online is that you can't try them on to see how they fit. I think that's a risk worth taking given how much money you can save.
Anyway, I'll have to find something new and interesting to do around here. That way I'll have something else to write about.